AL-KO Robot Lawn Mowers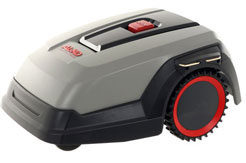 The Robolinho robot mower by AL-KO is designed to work in silence and with maximum efficiency, carrying out intelligent lawn care. The double-cut-system patented by AL-KO guarantees a clean and uniform cut.
The grass is constantly mowed and, thanks to the mulching cutting system, its residues become natural fertiliser for the lawn. In addition, the same residues on the soil are useful to protect it from drying during summer.
AL-KO robot lawn mowers cut the lawn completely automatically ensuring excellent results. They are designed to reach into very narrow passages and overcome slopes.