Ama Generators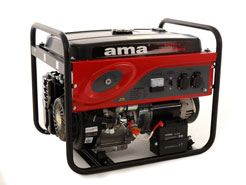 Ama generators are high quality products, capable of delivering a stable electric current suitable for powering PCs, televisions or audio amplifiers.
These machines are very compact and easy to transport, perfect for use in campers, in a stand or during a boat trip. They represent the ideal choice wherever a space-saving generator is required.
The Ama catalogue includes both inverter or petrol generators, which also feature a silencer that greatly reduces noise emissions.