Ferraboli
BBQs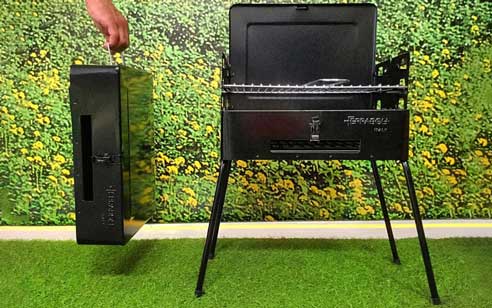 Ferraboli Barbecues, Gas Griddles, Skewer Grills and Charcoal BBQs
Ferraboli is an all-Italian company with decades of experience in outdoor cooking. Over the years the company has constantly invested in innovation, providing a wide range of products to meet the needs of grilled cooking enthusiasts.
One of the most remarkable innovations that Ferraboli Srl has introduced in its barbecues is the possibility of closing your own Charcoal Barbecue in a suitcase. This allows you to easily transport the BBQ for your picnics.
In addition, Ferraboli products are manufactured with high quality materials. From very resistant chromed steel grids up to enamelled steel or stainless steel structures.
Find out our special offers on all Ferraboli Barbecues in the following categories:
Ferraboli Gas Grills:

This category also includes Gas Griddles in enamelled steel. These tools are extremely easy to assemble, not requiring as much space when not in use;

Ferraboli Charcoal Barbecues:

They represent the traditional range of barbecues. The most popular models are: Portable Picnic Barbecues, Charcoal Skewer Grills and the classic Charcoal Barbecues with stainless steel lid;