Ama Leaf Blowers and Garden Vacuums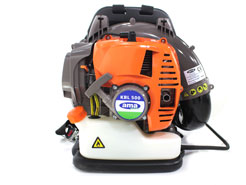 AMA leaf blowers-garden vacuums can be used both manually or in the backpack version. They are effective tools for cleaning and maintaining green areas. Designed for mainly domestic use, but with near-professional features, AMA leaf blowers are extremely comfortable and easy to use.
All models are equipped with an air-cooled 2-stroke engine. In backpack models, the engine is secured to the backpack frame thanks to the sturdy anti-vibration rubber pads that reduce vibrations increasing the comfort of use for the operator.
Some AMA leaf blowers-garden vacuum models can be multi-tool. To switch from one function to another, simply disassemble the blowing tube and mount the vacuum one to the side of the machine without using any other tools. The vacuuming function also automatically activates the grinding feature which, by means of internal blades, reduces the volume of leaves by up to 1/10.