Famur
BBQs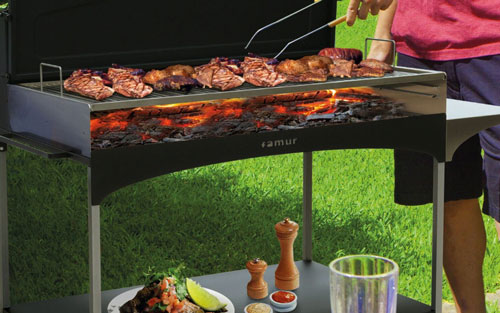 Famur Barbecues, the Made in Italy grill
Resulting from decades of experience, the Famur brand combines quality with modern design. Its range includes products designed down to the smallest detail, to offer the best possible cooking experience.
Many of the Famur Barbecues can run on a variety of fuels. In particular with charcoal, wood and even with gas. Famur products' great versatility makes this brand really popular in its field.
Almost all Famur models feature a stainless steel grid that is extremely resistant to any type of cooking. The different types of Famur Barbecues possess other distinctive features:
Famur Gas Grills:

Famur Gas BBQs operate through a special kit provided. Also, these barbecues are multi-purpose, meaning they can be used with both charcoal and wood;

Famur Charcoal BBQs:

Famur Charcoal Barbecues feature a base in refractory brick, which reduces the dispersion of heat when cooking with embers.

Famur Wood-fired BBQs:

All Famur Wood-fired BBQs can also be used with charcoal. This versatility allows both materials to be used without problems.