Campingaz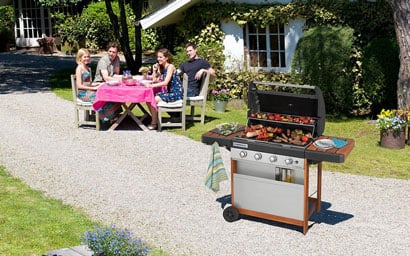 Campingaz, gas grills and innovative systems
The history of Campingaz began back in 1949, when three engineering friends from the city of Lyon set out on a family camping holiday, during which they noticed the lack of portable cooking equipment. With mandatory work holidays now being offered by employers in France, they decided there was sure to be a demand for this kind of equipment.

The trio immediately set out to create a simple, yet revolutionary innovation: the first portable energy solution, a small, blue, portable and refillable gas cylinder that could be used to feed a small cooker. Word of the company's portable cooking solutions started to spread beyond France and the iconic blue gas cylinders quickly became popular throughout Europe, achieving a success that endures to this day.
Later in 1952, the company also began developing and marketing stoves and cooking tools. Gabriel Corlet, André Colomb and René Sillon founded Campingaz, a pioneer in creating the first portable cooking solution.
Following decades of growth and widespread distribution of its products throughout Europe, Campingaz was one of the first companies in Europe to introduce a gas grill, which remains probably the brand's most popular product to date.