ITM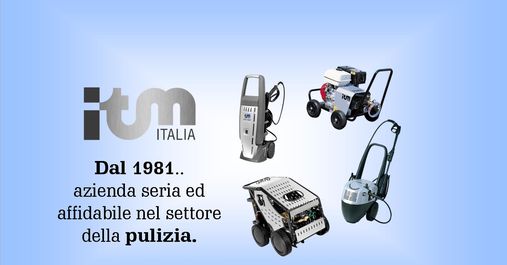 ITM Italia Cleaning Division
Specialised in mechanics and mechanical processing, ITM inherited the experience of the prestigious brand ITM, which has been on the market since 1981 and is particularly well-known for the production of hot air generators and dehumidifiers.
This company stands out for the manufacturing of top-quality products aimed at professionals in the sector, making extensive use of stainless steel in the construction of its machines. The brand offers high level products, entirely made in Italy, and offers high standards of reliability and sturdiness, implementing high quality components.
The range of ITM Italia products includes:


Diesel Hot Air Generators: a wide range of solutions, including machines intended for private users looking for high quality and high performance, and machines designed for professionals demanding reliability, durability and maximum performance;
Heavy-duty Pressure Washers: a large selection of professional and industrial-professional machines to satisfy the most specific requirements. All models are equipped with brass or nickel-plated brass cylinder head which make them suitable for continuous, heavy-duty use.