Comet

Group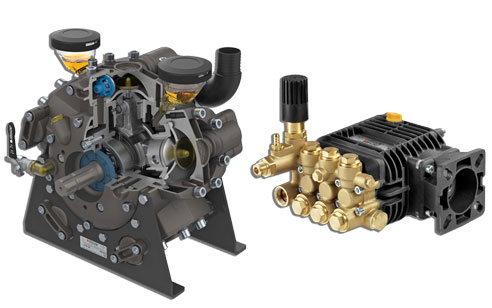 Comet S.p.A, Italian industrial tradition
Comet is one of the most comprehensive companies in the world in the field of water pumps. In particular, the leadership is closely linked to the flexibility of the offer, which allows the brand to cover all its markets.
Today Comet achieves most of its turnover on foreign markets, operating in over 80 countries worldwide thanks to its three production units and commercial branches, as well as various subsidiaries and a widespread network of distributors.
In fact, Comet is one of the few companies capable of emerging as a leading manufacturer of:
Components: with its various lines of diaphragm and piston pumps for the agricultural and industrial sector;
Finished products: thanks to a complete range of products for the entire cleaning sector, ranging from compact pressure washers for domestic use, up to large industrial plants;
In the field of agricultural machinery, COMET has always been recognised for its excellence in quality. Comet S.p.A is a world leader in the spraying and weeding machines sector. A leading role built in over 50 years of experience, consolidated by a relentless push for innovation and for the development of new products, with the aim of satisfying the needs of its customers. The company holds the ownership of numerous patents for important technological innovations, which guarantee its productions a fundamental competitive advantage over all its competitors.
A source of great pride for Comet is the Cleaning sector. The strength of Comet in this specific field is to make use of a single supply chain that allows to control all the production phases. In this way, it is possible to intervene directly on the components to offer the end user an exceptional product in terms of reliability, efficiency and performance.
The Agrieuro catalogue includes a wide choice of Comet products:
High Pressure Washers

Cold Water Pressure Washers: over 50 products with single-phase (220 V) and three-phase (380 V) electric motors, including machines intended for private users looking for high quality and high performance, and machines designed for professionals looking for reliability, durability and maximum performance.
Hot Water Pressure Washers: over 10 models of professional and semi-professional level machines to meet the most demanding needs. All models are equipped with a brass cylinder head and are suitable for continuous heavy-duty use.
Petrol Pressure Washers: over 10 models in every price range capable of performing intense work. Perfect for both the professional and the beginner user, this type of machine is intended for all those situations where it is not possible to connect the pressure washer to the mains.

Sprayer Pumps and Engine and Motor-driven Sprayer Pumps: over 50 models of electric or engine-driven sprayer pumps, with cart and with or without tank. These are tools intended for treatments in crops, using the high operating pressure that is able to nebulise the product.