Airmec Electric Air Compressors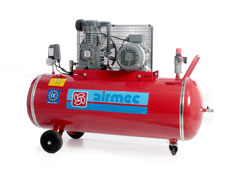 Airmec air compressors are ideal for the demanding professional and for intensive work. All Airmec products are Made in Italy, which means high quality, great performance and unparalleled reliability.
Airmec air compressors are fitted with Chinook cylinder heads, manufactured in Italy and ranked as the best in their class. In addition, the brand's air compressors feature a belt drive. The use of the belt, combined with an induction motor, contributes to the durability of the machine, drastically reducing the number of revolutions of the cylinder head and reducing wear.