AEG Electric Air Compressors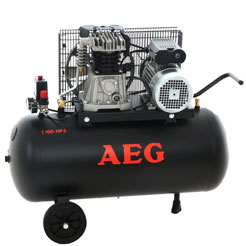 AEG air compressors are intended for both hobby and professional use. Reliable and safe, these tools benefit from the brand's historical quality and are manufactured in compliance with international standards.
AEG air compressors are easy to transport thanks to the sturdy plastic wheels. They are equipped with automatic pressure reducer, double control pressure gauge and output quick joint.

They are therefore versatile and functional tools, suitable for use in all types of circumstances and in all professional activities.